DELICIOUS. SEASONAL. DIFFERENT.
Sophie Eats is an Amsterdam based catering company and Deli shop.
We use the finest-quality seasonal produce to create the perfect balance of flavours and textures that make our food delicious and surprisingly different.
We specialise in seasonal, fresh and colourful food, with each menu delicately chosen for your event, whether we are cooking for a business lunch drop off, fashion press day or canapé party.
With a passion for and focus on great flavours and fantastic attention to detail, Sophie Eats' food is bound to put a smile on your face.
Sophie and her team will put your mind at ease by ensuring that the menu is delicious and that you won't have to worry about a thing.
Take a look at what we have to offer and let us know what you feel like!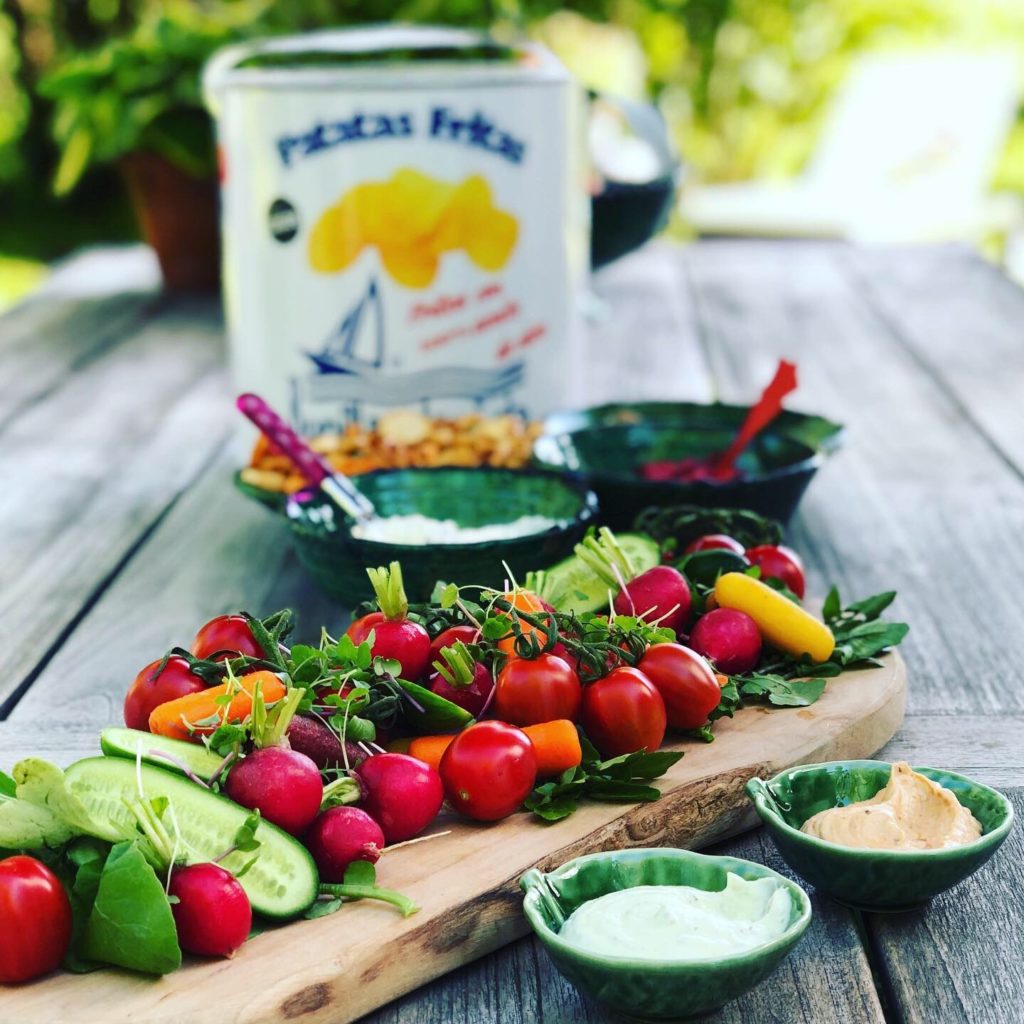 A dream come true. What started as a small catering company at home in August 2015, celebrates its success by opening a Deli on Maasstraat 88 in Amsterdam.
A lovely corner shop where our catering adventure continues and where we can showcase our signature food, accompanied by a lovely cup of coffee or fresh juice.
Focussing on the busy Amsterdam lifestyle, our whole Deli menu is designed 'on the go'. Whether it is a quick lunch on your way to work, a box of salted caramel blondies to give away, a hearty and comforting curry or a deliciously fresh salad box to eat at home.
We can't wait to have you over and show you all we have to offer! 
Maasstraat 88
1078 HM
Amsterdam
Wednesday 10am–6pm
Friday 10am–6pm
Saturday 10am–5pm
Sunday 11am-5pm
** Due to the Corona virus our Deli is taking safety measures until further notice. The Deli will be open Tuesday to Sunday and we will be providing pre-packed, delicious, healthy food, juices and coffees. It will be ready for you to take away as we can't allow people to stay and eat in. 
Prefer to order ahead and have it delivered? Just leave a message and we'll get back to you as soon as possible!
Stay safe, healthy and try to help others where possible.
Together we can tackle this! **
Please find our current menu below including prices!
For delivery in Amsterdam (ring) we charge €7,50 for all deliveries under €30. 
€5 for deliveries between €30 and €75, and free delivery above €75.
For deliveries outside of Amsterdam please contact us for a quote.
Deli and delivery menu 19th May - 7th June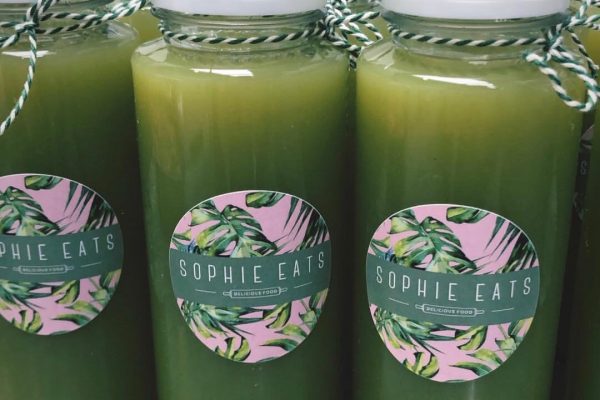 Americano, Espresso €2,75
Doppio €3,75
Cappuccino €3,25
Latte €3,5
Flat white €4,25
Chocolate milk €2,75
Oat milk +€0,5
Iced coffee +€0,5
Tea €2,25
Fresh mint/ginger/lemon tea €3
Cold pressed juices €4,5
Juice of the day €4,5
Home made Ginger & Orange Blossom lemonade (vgn, gf) €4
Kombucha €5
Big Tom tomato juice €2,75
Organic apple juice €2,75
Water still/sparkling €2,25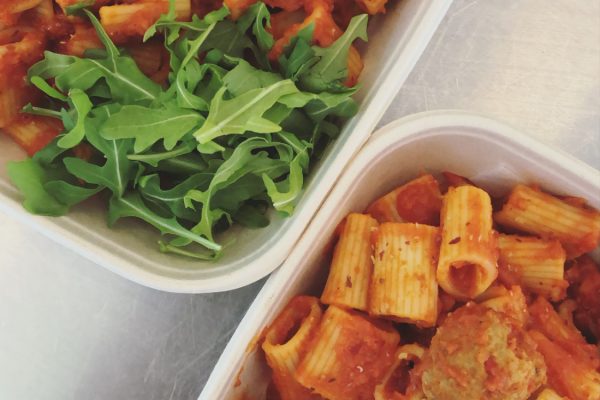 Soup of the day (v, gf) S: €5 / M: €9,5 / L: €13,5 *
Red lentil curry with coconut, chili and lime, served with naan bread (vgn) €12
Pork and fennel meatballs in a chili tomato sauce with rigatoni €12,50
Quiche of the day (v) €6
Tarragon, caramelized onion and matured cheese quiche with slow roasted tomatoes (v) €6
Pork and fennel sausage rolls €3,3
*  240 ml / 480ml / 720ml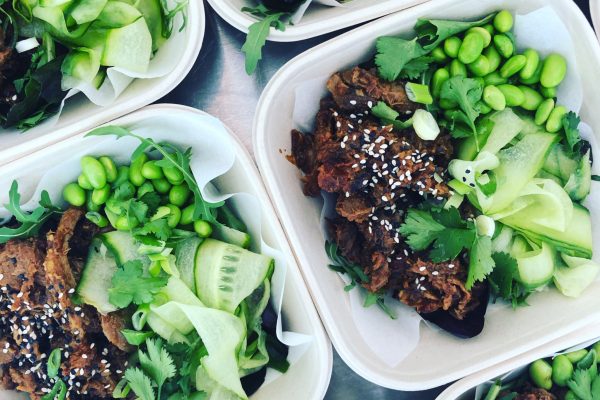 Hoisin duck with pickled cucumber, coriander, edamame beans and pancakes €12,50
Smoked mackerel with horseradish and lemon cream, roasted colored beetroots and herby pearl couscous €13,50
White asparagus salad with roasted potatoes, smoked salmon, egg and a mustard and dill dressing (gf) €12,50
Asian tempeh poké bowl with kimchi, edamame and coriander (vgn) €10,00
Burrata with mixed colored tomatoes, tarragon pesto and pine nuts (v, gf) €12,50
Roasted spiced cauliflower, mango hummus, toasted pumpkin seeds, pomegranate and coriander served with couscous (vgn) €10
*We recommend choosing 3 boxes to feed 2-3 people as a meal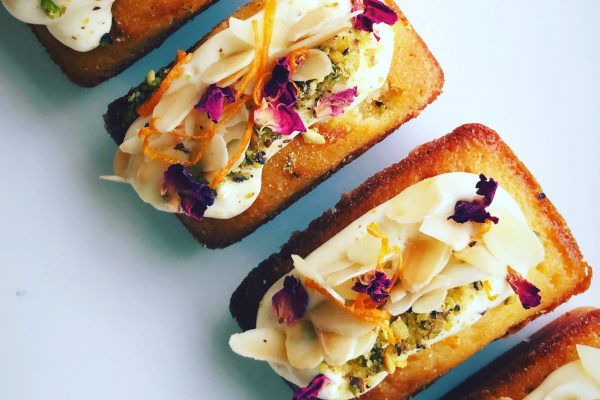 Chocolate chip cookie (v) €2,5
Pastel de Nata (v) €2,75
Berries and white chocolate cheesecake (v)  €4
Orange and almond cupcakes with vanilla cream (v) €4
Chocolate fudge brownie with vanilla icing and toasted coconut (v) €4
Banana bundt cakes with dark chocolate and salted caramel (v) €4
Vegan hazelnut and chocolate bar (vgn, gf) €4
Meringue (v, gf) €1
And follow our kitchen adventures on Instagram.
Sophie Eats. is the creation of Sophie van Oyen whose passion for creating an exciting, fresh and deliciously different catering company took her from a career as a researcher in medical nutrition.
After graduating from University in Food & Dietetics and being an intern for a start up food business, she decided to move to London to train at Leiths School of Food and Wine for a year, honing her culinary skills.
Sophie has a wide range of experience in the catering industry from working with catering companies in the city, for private clients in the countryside to working alongside Yotam Ottolenghi in his London famous restaurant Nopi.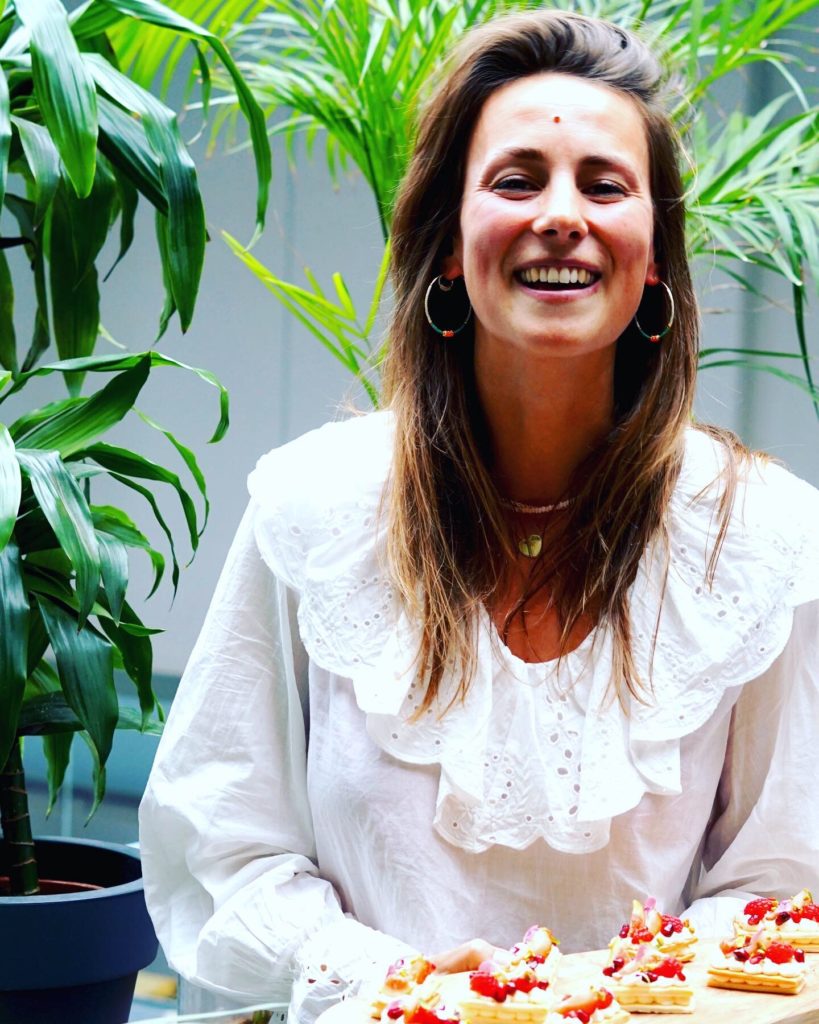 Please contact us for more information, we would love to discuss all the options about your event.